Atlantic Quality Design, Inc. has been in the electronics research and development business since 1989. A few years after inception, we introduced products for guitarists including the S-Tuner guitar tuner, PM-150 audio power meter, and our line of ZEROCAP and ZEROCAP VC guitar cables, all patented. We are not a me-too musical products company, but design and develop useful, unique products for the working musician. Another innovation is our Guitar Pickup Tone Database, a patented repository of hundreds of captured pickup responses, ready for quick comparison right now, for free!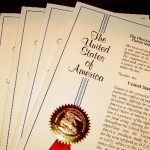 And our patents are available for licensing.
Our focus is on creating quality products for a reasonable price, with that extra edge of innovation to make your band mates say, "Hey! What's that?" We design everything in house, and assemble and test all products in the USA. American craftsmanship is being eroded by cheap offshore manufacturing in many companies, but not here.
We are still in the R&D business and entertain requests for quotation on special projects.
Interested in endorsing our products? Send us some links to your music and tour schedule and we'll be in touch!
Linking policy: You are welcome to link to and quote "fair use" amounts of our content, with proper attribution.
Please use our contact page to get in touch with us regarding your specific needs.